Europe Standard-In Stock,RAS-3015 6000W Fiber laser Cutting Machine from KRRASS for Sale
The Krrass RAS-3015 6Kw Fiber Laser cutting machine with single platform achieve cutting speeds of up to 140m/min and acceleration speed up to 1.5G; they guarantee the best quality, precision and efficiency. Meet the needs of 100% metal material processing, low purchase cost and maintenance cost, low investment and high return.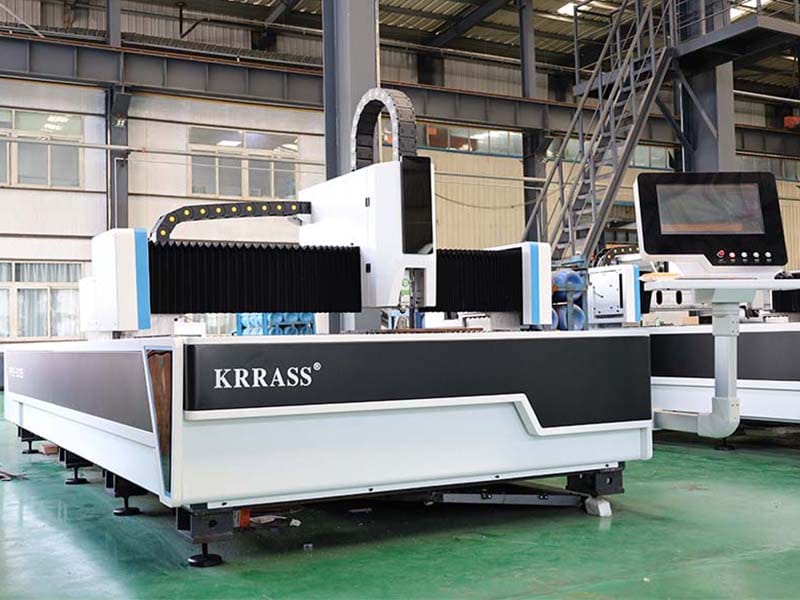 Cutting Speed(m/min):140
Acceleration(G):1.5
Laser Power(W):2000
Weight(KG):5200
Dimension(mm):4600×3200×1800
Cutting Size(mm)1500×3000
Material:Used for the rapid cutting of various metal materials such as carbon steel, silicon steel, stainless steel, aluminum alloy, titanium alloy, galvanized sheet, brewing and washing sheet, and galvanized sheet. Among them, the 1KW laser has the ability to resist high reaction and can cut on steel and aluminum.
Industry:Used in sheet metal processing, aviation, aerospace, electronics, electrical appliances, subway accessories, automobiles, machinery, precision accessories, ships, metallurgical equipment, elevators, kitchenware, household appliances, craft gifts, tool processing, decoration, advertising , Metal external processing and other manufacturing and processing industries.
Power consumption and energy saving, convenient maintenance, low cost in later use, and quick recovery of investment cost.
High precision, high speed, high cost performance, fully meet the needs of the sheet metal processing market;
High-performance laser cutting head, vacuum-level sealed anti-pollution, optimized fiber stability design;
Carbon steel plate tailor-welded, dislocation honeycomb welding structure has good rigidity, high precision, and can be stably maintained for a long time in normal use for decades
Smart and simple operation: one-piece humanized design, simple operation and convenient maintenance
The fiber laser cutting machine system is generally composed of laser generator, (external) beam transmission components, workbench (machine tool), microcomputer numerical control cabinet, cooler and computer (hardware and software).The main accessories of KRASS 6000W fiber laser cutting machine are:
| | | |
| --- | --- | --- |
| Name | Brand | Country |
| 1000W Laser | Max/IPG/Raycus | / |
| Precision Cutting Head | Roytools | Switzerland |
| Reducer  | Shimpo | Japan |
| Servo Motor | Panasonic | Japan |
| Electric System | Schneider | France |
| Water Chilling Unit | Standard | China |
Cutting Speed:
| | | |
| --- | --- | --- |
|   | 6000W(50µm) |   |
| Materials | Maximum Thickness(mm) | Can Cutting Thickness |
| Mild Steel | 20 | 18 |
| Stainless Steel | 10 | 8 |
| Aluminum | 8 | 6 |
| Brass | 8 | 6 |
Technical Parameter:
No
Item
Part
Unit
RAS-3015(6000w)
3
Effective Travel
X Axis
mm
1505
Y Axis
3005
Z Axis
150
4
Positional Accuracy
X Axis
mm
±0.04
Y Axis
±0.04
Z Axis
±0.01
5
Repeated Positioning Accuracy
X Axis
mm
±0.03
Y Axis
±0.03
Z Axis
±0.005
6
Re-positioning Speed
X Axis
m/min
110
Y Axis
110
Z Axis
110
IPG Laser
Advanced imported lasers from Germany, optical fiber transmission, no need to adjust the optical path, stable performance, life span up to 10,000 hours.
Cutting Head
The well-known Raytools cutting head is used to automatically adjust the focus according to the unevenness of the table surface to fully meet the cutting needs.
Servo Motor
The equipment adopts well-known Japanese brand-Panasonic servo motor, which provides perfect speed and stability.
Cpycut System
Super compatibility and stability to ensure cutting accuracy and perfect control.
Krass provides thougthful pre-sale and after-sale service for all customers,we have sales branch all arond the world,Indonesia,India,South Korea,German,France,Canada,Chile,etc.If you have any concern,please free contact us.
Warranty:2 years
Supply ability:100 sets/week
Sales ability:100sets/year
Delivery: 15~20days
Package:Covered by plastic film and fixed by steel wire inside